Now Installing Premium Engineered Screw Piles!
Specialists In Outdoor Living
Quality craftsmanship combined with a personalized service customized to your needs!
Big Dog Deck & Fence ltd. specializes in enhancing your outdoor living lifestyle.
Screw Piles
Our screw piles are engineered to the highest safety and quality standards.
Anchored Foundations
Engineered screw piles provide a strong foundation to keep your deck safe and secure for years to come.
Decks
Masterfully crafted using environmental and pet friendly materials
Masterfully Crafted
Our decks are masterfully built to exceed building code standards to give you piece of mind and a comfortable outdoor
Pergolas
Protection from the elements has never looked so good!
Year Round Enjoyment
Whether for protection from the elements or aesthetic reasons you can enjoy the great outdoors at any time of year.
Privacy Walls
Relax in private with our adaptable designs
Expressive Privacy
Privacy walls allow you to enjoy your backyard without those curious neighbors watching your every move.
Fences
Our custom fences are a great way to ensure your yard stays yours.
Secure Enclosures
Our Beautiful and resilient fences provide a safe enclosure for your yard to keep pets and children in and trespassers out.
Explore Recent Work
We believe results speak for themselves. Browse our past works to get ideas and see what we can do.
Our Core Values
Big Dog Deck and Fence ltd.'s core values define how we treat our clients, frame how we work with colleagues and, are a key part of our ongoing success. These standards define who we are and ensure a consistent customer experience that exceeds expectations. They are embodied in everything we do, in the way we operate and lay a strong foundation for creating lasting value for our clients.
Testimonials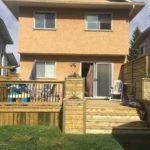 We contacted Dave at Big Dog Deck and Fence to replace our fence that had fallen over during a terrible wind storm in Calgary.

Dave and his wife Lili came and gave us an estimate and guaranteed us they would get working on it right away. We have a dog and really needed a fence. They did as they promised.

We were very please with the service that we received from Dave and his wife. They were always on time and very professional. Kept us informed as they went. The fence was done on time and in budget! We were so happy with the work and the quality of our fence that we had them build us a deck (which was also done on time and in budget).  We are extremely happy with our new fence and deck. The quality of the work is outstanding.

I would definitely use Big Dog Deck and Fence again and we have recommended them to friends."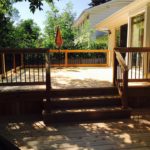 "It was a pleasure to deal with Dave and Lili with the construction of our deck and fence. They listened to our needs and made many helpful suggestions while staying within our budget. They are professional and pay extreme attention to detail in addition to using high quality materials. We could not have imagined having a backyard that we could be happier with. We enjoy our space for entertaining or just relaxing on our own as it allows us privacy which feels like living outside of the city. We are very pleased with the result and would not hesitate to hire them again as their work is second to none."
Click the button to request a free quote